Description
Ultra-Compact AC/DC Programmable Power Supply (CV/CF) :
15 Models
FEATURES
OPERATION MANUALS
FEATURES






*1: Only "R" models (PCR-WE2R) with 3-phase 200 V input. For regeneration within the installation site only.
*2: Parallel operation is available for 6 kVA models and up with a maximum of 4 units. Same model combination is not required. Up to 48 kVA per phase
Compact Size!
Compared to our previous PWM models, the size of the PCR-WE has been drastically reduced by 60%. Efficiency has also been increased by approximately 7%, for an overall high efficiency of approximately 85%.
Up to 144 kVA with Parallel Operation
Parallel operation is available on all models by simply connecting an optional parallel operation cable. This feature is available even among different models for a wide range of high power.
*Same input voltage required for 6 kVA models and higher.
Extremely Power Dense 36 kVA Chassis
The PCR-WE/WE2 form factor has been significantly improved, occupying the absolute minimum amount of precious space in your testing facility. The form factor is even further optimized in high powermodels.
Low Ripple Noise
Achieves an extremely low switching noise for a PWM inverter-type AC power supply, with ripple noise as low as 0.25 rms with 1 kVA – 6 kVA models. The PCR-WE series even boasts similar noise performance with the PCR-LE/LE2 linear amplifier power supply series. The compact, high-power design of the PCR-WE/WE2 has been achieved with absolutely no compromises to ripple noise performance.
100% Regeneration Capability, No Time Limit
The PCR-WE2R models are capable of 100% power regeneration. The power regeneration feature is available with absolutely no reverse load flow time limit. (30% for PCR-LE/LE2)
*Regeneration is limited within installation site. Only available in "R" models (PCR-WEA2R) with 3-phase 200 V input.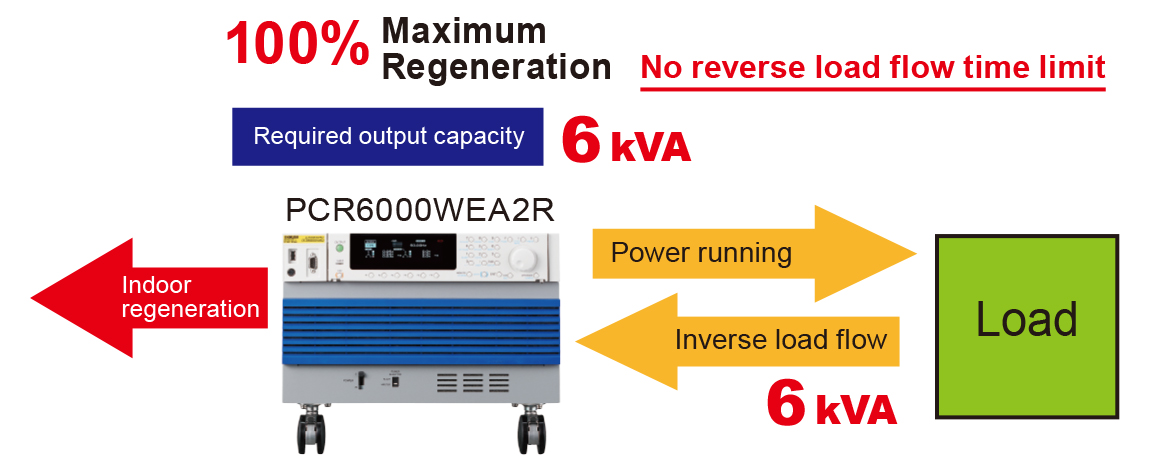 Output Frequency up to 5 kHz
It has a maximum output frequency up to 5 kHz for critical applications in the defense and avionics industries. The frequency performance of the PCR-WE allows for simulation of sharp voltage fluctuations required for airborne electronic equipment testing. Furthermore, the compact 6kVA/6U form factor allows for the easy preparation of an automated, one-rack testing system without requiring a costly, specialized power source installation space.
DC Output 100% of Rated Power
The PCR-WE/WE2 series enables DC output up to 100% of the AC rated power output.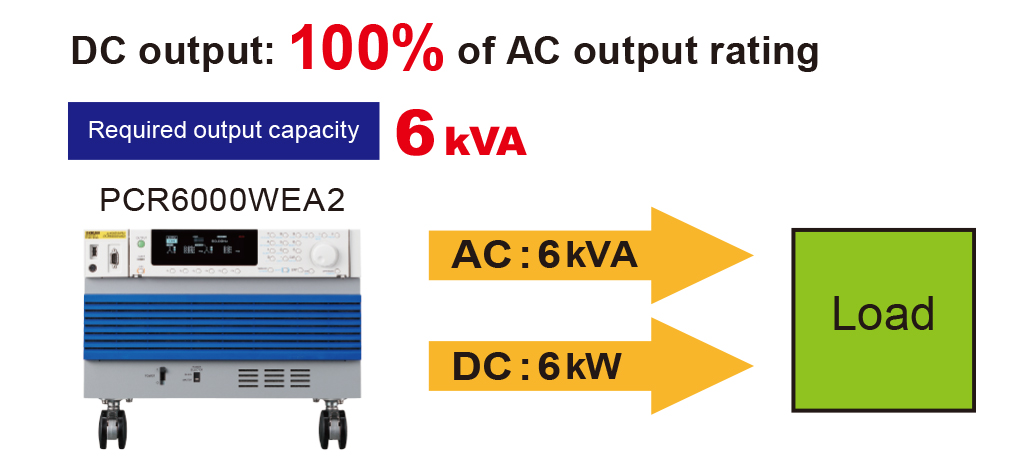 LAN, USB, RS232C Standard Digital Interface
The PCR-WE/WE2 series includes a flexible digital interface for users utilizing LAN, USB, and RS232C communication interfaces (GPIB factory option available). LAN connection is LXI compliant, allowing you to monitor and control your device wherever you are via computer, smartphone, or tablet web browser. This feature is particularly important when conducting critical AC tests in anechoic chambers/shield rooms.
Power Saving Mode *6 kVA models and higher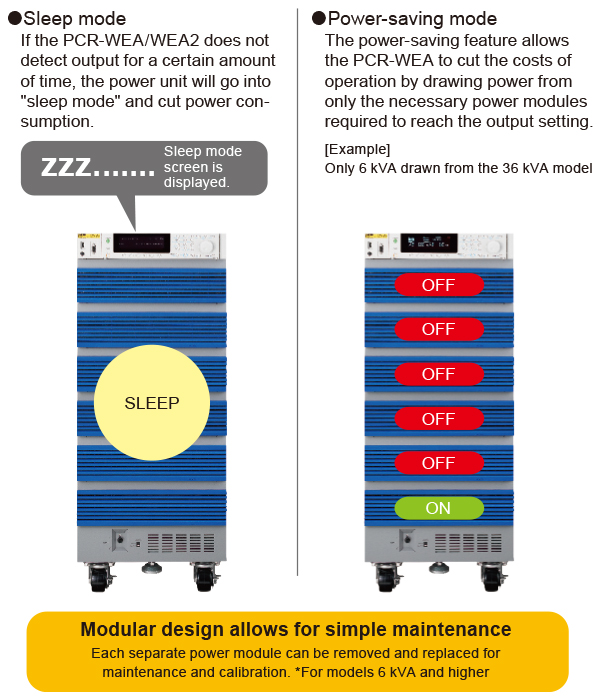 Power Line Error Simulation
The PCR-WE/WE2 series can simulate various power line abnormalities such as power outages, voltage drops (dips) and voltage increases (pops). This feature is useful for the testing of power-source switches and various electronic devices.

OPERATION MANUALS